Upgrading OSIsoft vCampus development environment to newly released Microsoft products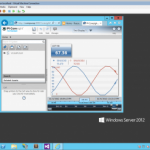 I've spent the last few evenings running Windows Server 2008 R2 upgrades to Windows Server 2012. So far, things have gone relatively smoothly. I've upgraded my SQL Server, AF Server, and SharePoint 2010 Server to the new OS with no issues. I have, of course, taken snapshots of each VM prior to making any changes so I can always go back to 2008 R2 if I need to.
My AF Server is running the latest beta release of AF 2012 Beta 3. I am hosting the database on SQL Server 2012. I haven't seen any problems at all after upgrading both server VM's to Server 2012. Likewise, WebParts seems to be running Ok under SharePoint 2010 on the Server 2012 OS. I also have Coresight running on this same server. Again, no problems. Kudos to OSIsoft for almost always making these transitions smoothly. It is nice to work with a company that is always planning ahead and usually prepared for the latest Microsoft upgrades.
At some point, I will want to transition to SharePoint 2013. I'm finding out that this isn't going to be as easy as just running setup.exe and letting 'er rip. There is a Microsoft TechNet article explaining the process.
Overview of the upgrade process to SharePoint 2013.
It doesn't look particularly difficult, but I don't think that I will have the spare time to tackle it for a little while.
Meanwhile, I'm knee deep in some SharePoint development for a client. I installed SharePoint 2010 with PI WebParts and DataLink Server for them earlier this year. They had a few non-PI related software development projects that they asked me to do. We implemented one simpler project using SharePoint Lists and a fairly simple Workflow. It has worked well. I am now working on a much more involved project that is going to require a custom Workflow developed in Visual Studio along with some custom InfoPath forms. It is a little challenging to get up to speed but I am getting to the point where I have a semi-functional draft. Once I get some more experience, I think that SharePoint is going to be a highly productive environment for developing solutions.